Engineering company PSE is promoting the NFC RFID tags it has developed to identify safety instrumented system devices in industrial sites and track the maintenance and calibration history of each device. In addition to being attached to equipment, these tags can also be used under hazardous industrial conditions such as oil and gas companies, petrochemical refineries and chemical manufacturing sites. By using RFID tags, companies can automatically collect the maintenance history of each security device to ensure that all devices are maintained.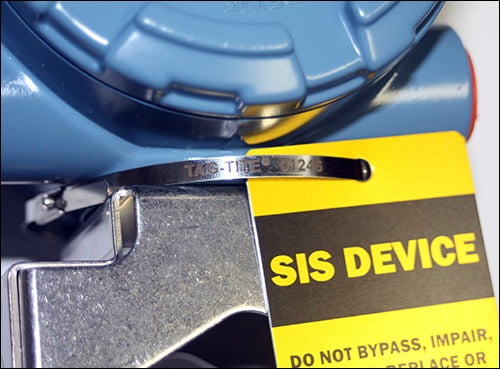 PSE is an engineering consulting company that focuses on process control, industrial automation, process safety and safety instrumentation. Richard Pranke, the principal of PSE, said that the company's customers are mainly concentrated in the chemical, pharmaceutical, petrochemical, oil and gas industries.
(A SIS-TAG tag is attached to the maintenance equipment)
PSE's customers often have hazardous materials on their sites, and they must be closely monitored during storage to prevent any accidents such as gas or liquid leakage. Therefore, the company uses safety instrumented system equipment connected to the gas tank to track the pressure and display related abnormalities. Every month, every quarter or every year, the company will send maintenance personnel to conduct inspections to ensure that the equipment is working properly.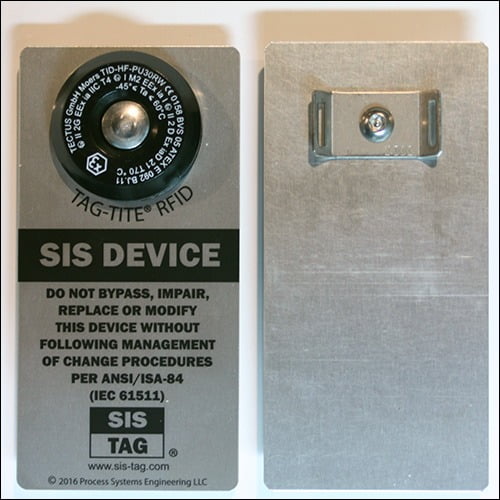 Generally, in hazardous environments, companies do not allow employees to bring laptops into the venue. Therefore, employees can only record manually.
(SIS-TAGs can provide high visibility and recognition rate under extreme conditions)
In the past two years, PSE has been providing a bar code label called SIS-TAG, which can be connected to a security device with a TAG-TITE tamper-proof stainless steel fastener. Pranke said: "Our customers want to be able to use barcode tracking and maintenance equipment." In 2015, the company sold SIS-TAG tags to a petrochemical company.
Pranke said that chemical, oil and gas and other industrial companies have begun to use RFID to manage equipment maintenance history. PSE petrochemical customers have installed RFID tags on some equipment and equipped their maintenance staff with RFID handheld readers to read the tags and update the equipment maintenance history. Therefore, the company contacted PSE in 2015 to find a version of SIS-TAG that supports RFID.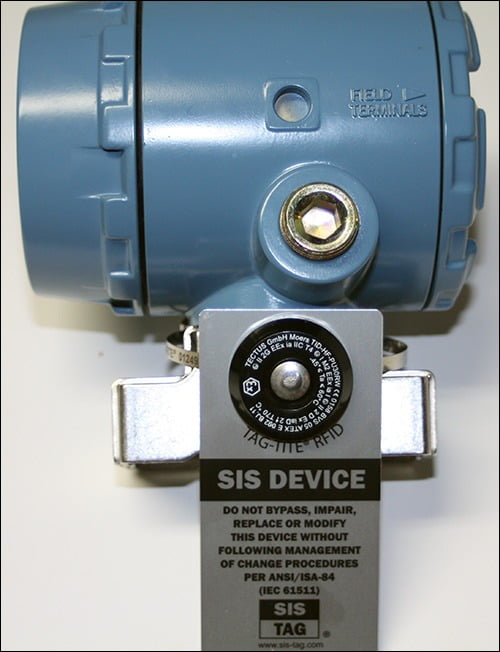 To this end, PSE cooperated with German industrial RFID hardware manufacturer Tectus to develop a stainless steel tag with a built-in high-frequency (HF) 13.56 MHz RFID tag that meets the ISO 15693 standard. The label size is 2 inches * 4 inches, and the built-in RFID tag has a diameter of 1.3 inches and a thickness of 20.25 inches. The label can work under extreme temperature, humidity, and chemical environments. The label can be pasted to the device via TAG-TITE. In order to remove the tag or security device, the user will need to cut through the TAG-TITE.
Beginning this year, the company began to use these tags on devices and bind the tag ID numbers with device history information. When employees perform maintenance or inspections on equipment, they first hold a ready-made passive RFID reader near the tag to read the tag ID. Then, employees can read relevant information in the enterprise maintenance software. The data is also directly written to the tag, and it can be read and updated without network connection.
(SIS-TAG tag attached to the security device)
For the petrochemical company, the system ensures that all equipment is properly maintained. At the same time, the system can also reduce the time spent on manual input. Although the QR code can also provide a unique identifier, the data is not written into the label. On the other hand, ultra-high frequency (UHF) RFID has a small reading range, which also ensures safety to some extent.
By using RFID tags, the company can not only identify the equipment maintenance history, but also see the details of the maintenance. In this way, the company can understand the life expectancy of each device.
In addition, SE has also developed an Android application. Using this program, users can view and update label information.