RFID tracking Inventory Tracking solutions company RFiD Discovery (a company under Paragon ID) has launched an automated solution. While this can help hospital employees fill consumable use medical kits in operating rooms. Hence, to ensure that the right medical tools are available for each operation.
Whether it is prepare items for each operation or not use during operation items. Or need to return and place on supply shelf item. This system can identify all the RFID tags or barcodes on these items.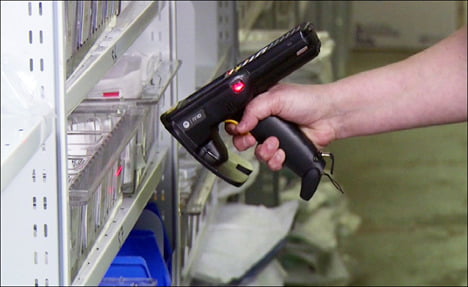 Select the correct medical tool
The RFiD Discovery application and software will provide a description for each item. So that to ensure that doctors can select the correct medical tool.
The system was first deployed in 2016 by an large-scale emergency National Health Service (NHS) hospital in the United Kingdom. It saved clinicians and medical institutions seven or eight hours of labor per day. As well as allowing them to collect and return equipment for operation. More ever, the solution allow important but busy nurses and doctors to focus on patient care. And they do not need spending time managing supplies and equipment.
Employees use RFID handheld readers and barcode scanners to complete daily picking
The RFID tracking Inventory Tracking solution is now promoting to hospitals around the world. In addition, the company further developed this system to make the medical tools and supplies collection more automated. According to the company, another British hospital is also deploying. Hoping to save clinical staff time and ensure that surgery not delay. Because the operating room not equipping with suitable equipment.
Simon Dawkins, the company's chief RFID consultant, said that. On one hand, RFiD Discovery uses RFID technology as a tool to help hospitals solve the COVID-19 epidemic surgical backlog.
On the other hand, the traditional responsibility for selecting equipment for each operation generally falls on the senior nurses and clinicians. They must go to the supply room to collect the equipment before each operation. Doctors know what they need and will choose more items to ensure that all may-be-need equipment. Because they need to make sure that every is available at any time during the operation. Then, return the items to the supply room after the operation.
RFID inventory tracking Anti Waste
However, such a manual process not only consumes nurses and doctors time. but also causes a large amount of equipment to enter and exit the operating room. That causing equipment inadvertently waste or loss.
For nurses and clinicians, the focus is to ensure that all the equipment for each operation is available. And this set of solutions aims to make the equipment selection process, return transparent and easy to implement. Dawkins said, "We have completely changed this process by establishing a system. while guiding medical staff to collect the equipment for each patient's surgery." And the hospital uses software and applications to manage the collected data. As a result, you can choose every item to use UHF RFID tags, barcodes or a combination.