Many events in this Olympic Games are quite eye-catching, but one regret is the empty audience seats.
In this year's live broadcast, you will not see crowds of flags and drums, you will not see neatly waving pull rods, and you will not hear the shouts of cheering.
The "unity" and "friendship in the Olympic spirit seem to only happen to the athletes on the field. There is very little communication and communication outside the field, which is too cold. . .
However, there is one exception.
At the International Broadcasting Center of the Tokyo Olympics this year, such a scene often happened:
In the picture, two reporters who didn't know each other were walking on the road and looked at each other, and one of them would suddenly come forward.
"Hello, can I make friends with you?"
"What's wrong, brother, why don't we touch it?"
"Okay, let's have a good touch today!"
The two will remove a small badge from their chests or from their backpacks. When they "click", they are friends.
This is the latest and coolest way to communicate in the Olympics.
Everyone who gets this little badge will say "Wow, this thing is really cool!"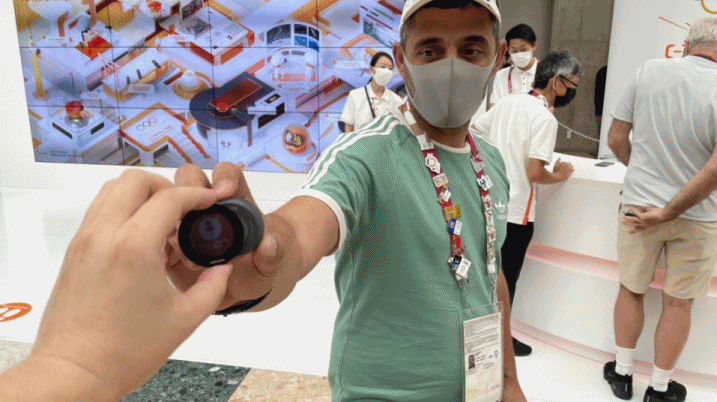 At the Olympic Games, the organizers, participating teams, related organizations, and sponsors will launch their own Olympic badges. People call these things Pin.
Most of these badges are beautiful and creative, so some people collect Olympic Pins like stamp collecting. In order to obtain the badges they want, they often "exchange Pins", exchange badges for badges, and exchange them for their favorite styles. Required.
The earliest Olympic Pin is 120 years old. Along the way, Pin has become a very important culture in the Olympic Games, because it brings more sense of participation to people other than athletes and allows everyone to participate. During the Olympics.
Once, putting the Olympic Pin on their hats was a way for them to connect themselves with the Olympics.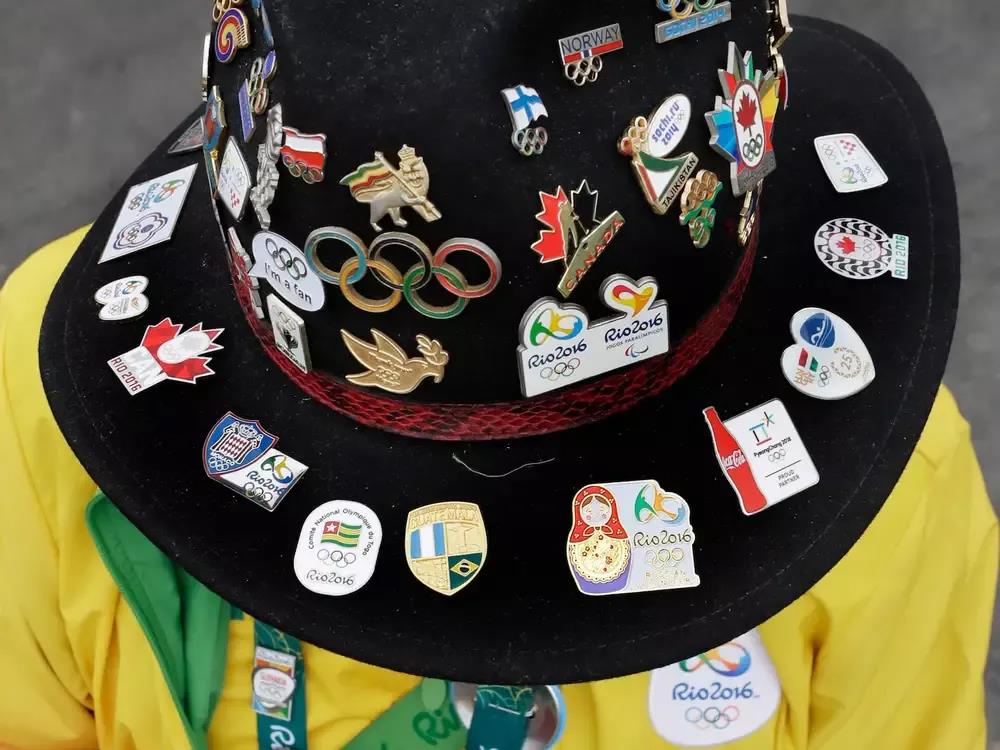 Now, due to the prevention and control of the new crown epidemic, the Pin culture of this Tokyo Olympics is cold and spectators cannot enter the venue. This means that many Pin players cannot participate. In order to avoid gatherings, there will be no Pin trading venues this year. .
A Reuters report said that Pin lovers have lost a precious opportunity once every four years.

The New York Times even made a special topic to write about the prospects of Pin culture in the Tokyo Olympics.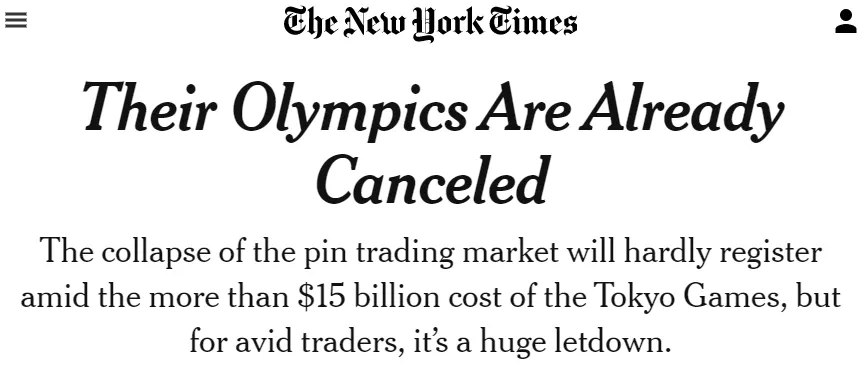 A few days ago, a new species appeared. It was the Pin that the media reporters said at the beginning of the bad review, no matter how long the line is. The name is Alibaba Cloud Pin (Alibaba Olympic Cloud Badge).
This gadget was spread wildly in Tokyo. Due to the limited daily supply, reporters who queued earlier and got Cloud Pin first came directly to Versailles on Twitter.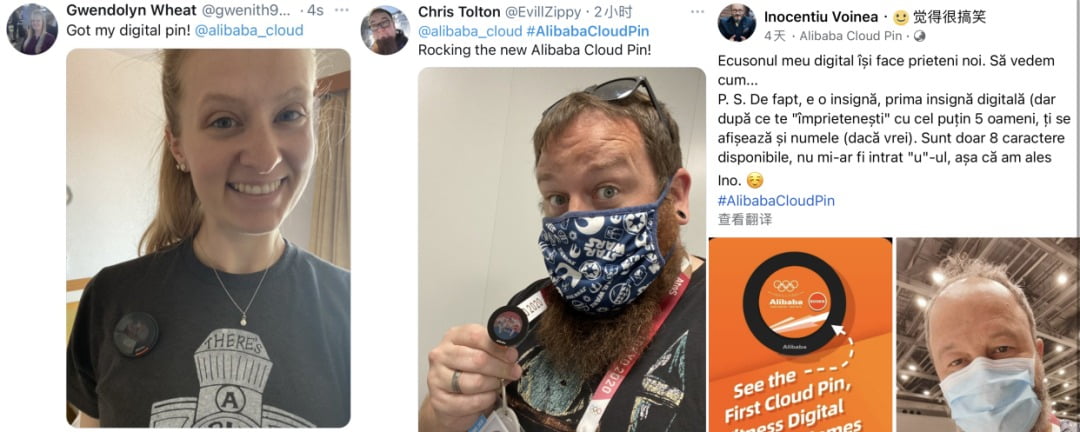 Others put it on the opening ceremony of the Olympics.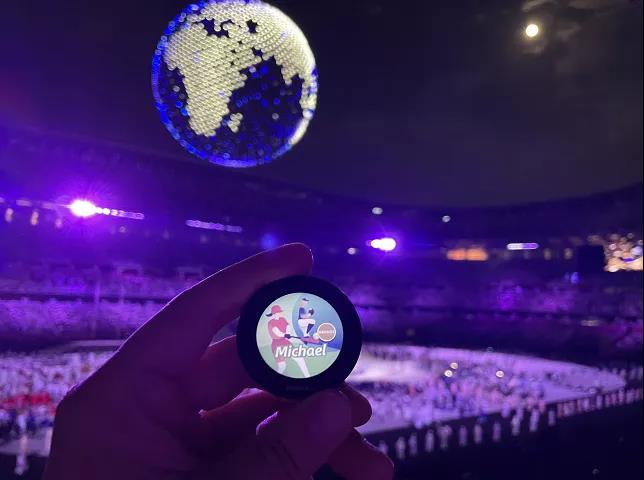 Worthy of being a reporter, there are two things in this composition
There is also a reporter who directly sealed Cloud Pin on the spot
"Cloud Pin may be the coolest gift for the Tokyo Olympics!" ▼

In addition to these amateur reporters, some major overseas media have also noticed this "digitalized" cloud badge. PR Newswire, Yahoo Finance, and Engadget have all reported. Engadget also made an unboxing video.
Some media reported that: "The cloud badge marks an unusual Olympics. If it turns into a collector's collection, we will not be surprised at all."
The news of Cloud Pin has also been spread to China, and many people are clamoring and want to try it.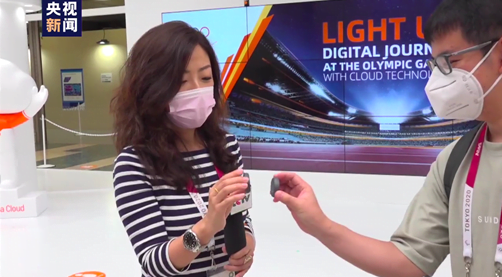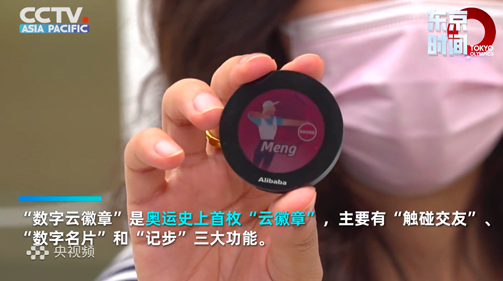 And the bad reviewer who always loves to join the lively science and technology circle, is too greedy to see, contacted Zhang Hao, the project leader of Alibaba Cloud Pin.
Cloud Pin was so hot, he was busy with two appointments, and finally got on the phone.
He told me: "In IBC venues, whether reporters, cleaning, security, or cooks, they all want a Cloud Pin."
As soon as I heard, my dear, is this really fake? Co-authored this is a picture of "Cleaners who don't want to be a chef are not good reporters?"
"It's not that I'm telling you. This is true. We originally only distributed it to journalists, but there was a cook in the venue who took advantage of our too much rush and ran away in a hurry. Later we knew he was. The chef in the venue, it's almost 11 o'clock noon, he is eager to go back to cook."
In addition, he also told me that Cloud Pins are distributed in a limited time period, so many reporters will start queuing one hour in advance. During this process, he met a reporter who came over after the distribution was completed on the same day. That reporter's working hours happened to be the time when they started to distribute.
The reporter came here for three days without receiving it. He said that he wanted to exchange all the dozens of traditional pins on his body for a Cloud Pin according to the method of pin exchange. In the end, the staff found that he was too persistent, so he gave it as an exception. He is the one.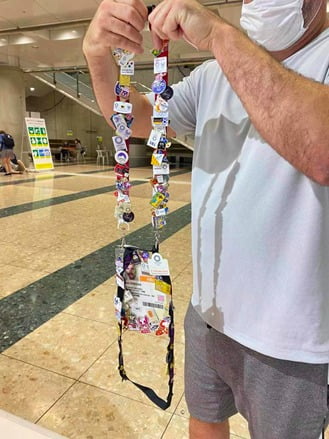 From these things, you can see how popular this gadget is.
Hearing this, I asked with a big face on the spot, "Can you give me the whole two and let me touch it?"
Tell me, this thing is really cool.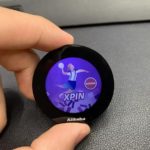 The badge pattern inside can be changed by yourself, and you can display your own name, I set "XPIN".
This thing is much thinner than I thought, about 10mm, and lighter than I thought, and the way to wear it is also very user-friendly. There are two ways, one is to wear the plate with pure magnetic attraction, and clamp it with magnetic force. Clothes and suck the Cloud Pin.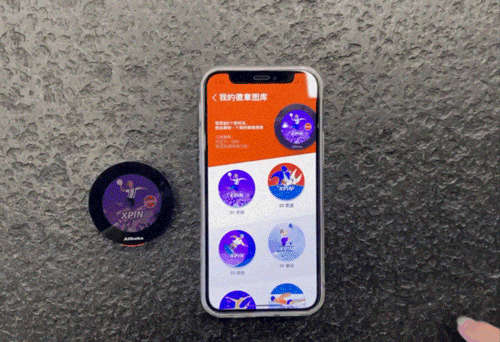 The other is to use a pin-attached magnetic wear plate so that it can be worn on carriers that are not so easy to be attracted by magnetic force alone.
I wonder if you have noticed the difference between the photo I was wearing on my body and the photo I held in my hand before. Does it feel a bit dark?
Considering the power consumption issue, this Cloud Pin uses a transflective and transflective screen, which automatically turns off the backlight at ordinary times. The stronger the ambient light, the clearer the view will be. The light in Hangzhou is a bit poor during typhoon these days, so it looks a little darker. .
Picture and the core gameplay of this thing is that two badges can be exchanged with each other's social account information with a light touch, and you can make friends with each other. For every 5 new friends you make, you can unlock a new badge pattern. These The design of the pattern is derived from the popular sports of the Tokyo Olympics.
This is very important, because it not only completes the traditional Olympic culture of "Pin exchange" while avoiding physical contact, but also replaces the process of "exchanging business cards" while avoiding contact.
The bad reviewer really wants to show you this bumper social function. Unfortunately, since I'm not on the scene in Tokyo, I can't experience the wonderful feeling of encountering people and seas. I can only bind two Cloud Pins with two mobile phones by myself. Make friends with yourself and stage a side-to-side fight. . .
However, I can still show everyone the animation after the successful bumper friendship, giving people a sense of accomplishment~
In fact, the function of this little thing is quite simple. On the surface, there is nothing special about displaying business cards, counting steps, and making friends.
However, Wang Che, the designer of Alibaba Cloud Pin I contacted, told me that this little thing has its own merits.
As a "badge", it must be as small and light as possible. This gadget is only 10mm thick and weighs less than 20g, but for its function, it must be stuffed into the main control, Bluetooth, NFC, vibration motor, screen, battery, etc. Various components.
For this alone, they spent a lot of time stacking the components, and deliberately used a screw-less and buckle-free assembly process, and even the choice of shell materials was very elegant.
At the software level, Cloud Pin relies on Alibaba Cloud's Alibaba Internet of Things platform. All data is uploaded to the cloud to ensure safety and reliability and meet the data compliance requirements of different countries in the world.
When people touch each other with Pins, NFC actually only exchanges a unique identification code, and other data transmission is done on the cloud, so when you touch and make friends, you can exchange social network information of both parties with just one touch.
In addition, he also told me about the dilemma they encountered when doing Cloud Pin.
The background of this project is the Tokyo 2020 Olympic Games, and it is also the pandemic period of the new crown virus in 2020.
Due to the new crown epidemic, the upstream and downstream of the electronic product industry are in a downturn. I believe you can often see news that a certain automobile giant has to cut production due to a shortage of chips. At that time, the world could use the phrase "lack of cores and less screens".
Many components of Cloud Pin are out of stock, especially the semi-reflective screen. The people in Ali will receive dozens of such small quantities from the supplier, and even ask the supplier to help. Ask the previous customers if they have leftovers. If there are leftovers, Ali wants to buy them and use them.
"I almost knees! Hahaha." He described it this way.
I asked him why you worked so hard to make this thing?
His answer made me feel very excited.
He said that Alibaba is a global partner of the Olympics, and this year is also committed to making the Olympics the most digital Olympics in history. Everyone watching the Olympics, every media worker working in the Olympics editing and editing work, is actually silently using Alibaba Cloud's technology, but since Alibaba is doing infrastructure construction on the cloud, it will not give a lot of attention. Intuitive sense of participation.
However, good technology must be accessible to people. Every function of Cloud Pin relies on Alibaba Cloud, allowing everyone to get closer and more intuitively to digital cloud services. charm.
Maybe you guys who are reading the article will not feel particularly excited. This is due to "being not present and unable to feel the atmosphere", and there is another reason. That is, the level of digitalization in China is too high, and everyone will be a little numb to this kind of technological gadgets.
Different from the high level of digitization in China, many overseas countries are much weaker than ours. There are few digital applications in their lives. When we scan QR codes or even face payments, some developed countries are still using physical credit cards.
Even for some small countries, Cloud Pin is something they have never seen before, like magic.
See how excited this foreigner is ▼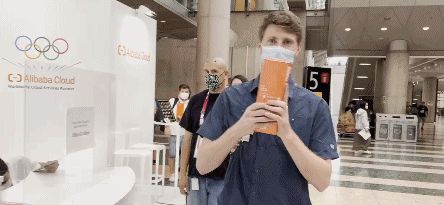 The explosion of Cloud Pin at the Tokyo Olympics is, in a sense, an external output of "technological creativity". They may have the same technical capabilities as ours, but in many cases they did not have the same ingenuity as ours. force.
And this small badge of China's smart manufacturing made by a major Chinese Internet company has made media from all over the world aware of the vigorous creativity of China's smart manufacturing.
Cloud Pin is also a bit like an interesting technical social group experiment. It is a microcosm of the improvement of people's life experience through digital transformation.
From the perspective of this Olympics, it seems to be just a gadget, but if you look outside, a small, lightweight, low-power, technologically small hardware that can interact with social interactions and fully go to the cloud, in fact, there is more imagination. .
Can we use it to create a safe, convenient and efficient digital identity authentication system? Can we use it to build a fast and agile industrial IoT system for data exchange? Can we use it to build a reliable intelligent building control system? Can we even apply it to animal husbandry so that every piglet and lamb are equipped with pins with special functions to prevent the plague and increase production?
Based on the security of the Alibaba Cloud Internet of Things platform, billion-level data connection capacity, global deployment, low power consumption and other characteristics, these are all possible in the future.
This is the charm of digitalization. Cloud Pin has completely transformed the traditional Olympic Pin, allowing everyone to maintain the century-old social tradition of "exchanging Pins" under the epidemic.
People always say that technology is making people mechanical and indifferent.
In fact, technology can bring warmth.
The various social restrictions caused by the epidemic are a kind of suppression of human social nature. People are unwilling to communicate and dare not communicate. But social interaction is actually a precious nature of human beings, and it is part of people's emotional communication.
At this time, Cloud Pin has become an important link. He relies on digital cloud access and technology to make people no longer afraid of the epidemic and happily reconnect with each other. Whether it is the continuation of the Pin culture or Cloud Pin's touch-and-touch method of making friends, it brings a full sense of ritual to those Olympic participants, and the feelings between people are conveyed through the sense of ritual. of.
In this Olympic Games, the digital cloud technology has brought people a lot of humanistic care.
For example, in the hot Japanese summer, Alibaba Cloud has developed a system for real-time monitoring of temperature, humidity, and sunlight intensity to prevent staff from getting heatstroke.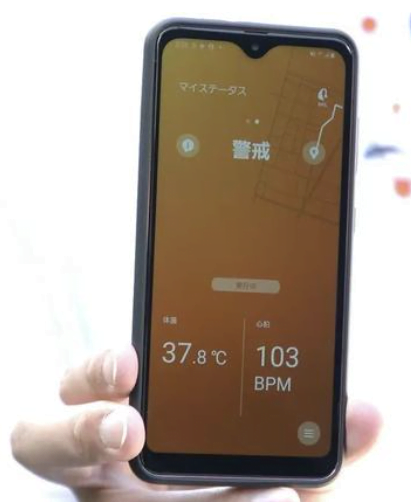 For example, due to the epidemic, there was no way for the audience to come to cheer, but Ali organized an online cheering event, collecting 50 million Chinese cheering and sending them to the Tokyo Olympic Games venue.
For example, in the Olympic International Broadcasting Center, there is a large real-time data screen that records in real time how many times reporters with Cloud Pin have made friends and how many steps they took.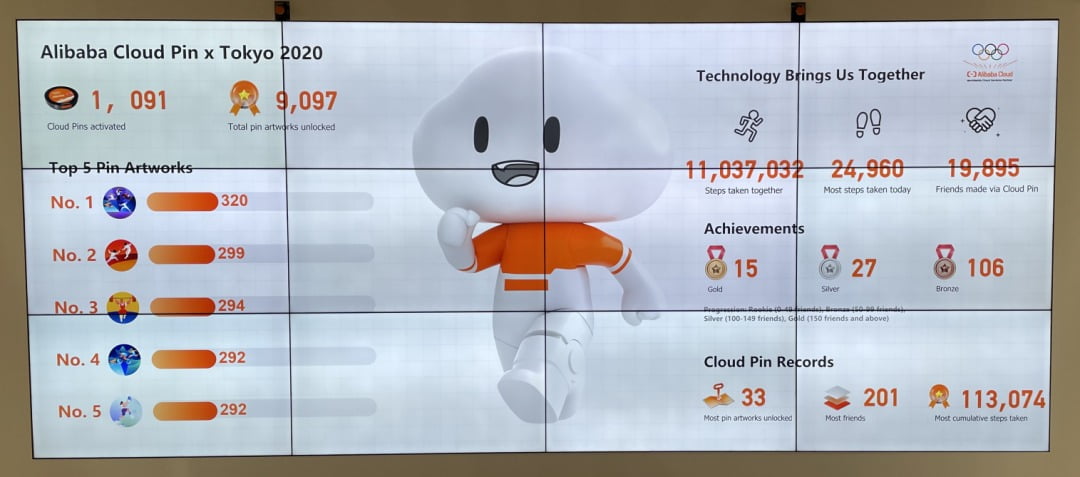 It's not just the athletes' efforts that should be remembered. These journalists are running around every day in order to bring better content to everyone. Their efforts should also be demonstrated and worthy of being recorded.
These small and warm digital applications are an intuitive manifestation of technology bringing people a better life.
From a global perspective, digital applications will also bring people higher efficiency and unprecedented experience.
This time the Olympic Games and Alibaba teamed up to build the OBS Cloud. The OBS Cloud completely subverts the traditional way of editing and editing. It will provide the largest real-time remote production in the history of the Olympics. Both directors and editors can work directly on the cloud. It greatly reduces the complexity of report production, allowing media professionals to release more energy to record and create good content, and make newer and more creative reports.
In addition, there are a series of technical services such as conferences on the cloud, the official website of the Olympic Games on the cloud, and Intel 3D athletes on the cloud.
Even IOC President Bach thanked China's technology, saying: "Because of Alibaba' cloud technology, this year will be the Olympic Games with the highest level of digitalization."
I think this may be just the beginning. The Olympic Games, which has a history of more than 120 years, is becoming young and bursting with new vitality due to digitalization.
In the future Olympics, if the Olympics continue to cooperate with Ali, we may be able to watch the games through VR and AR without leaving home. The referee assistant developed by AI technology can make the competition less controversial and judge points. You go to the Olympic Games site, you may not even need to bring your mobile phone, brushing your face can solve all your needs~
It is not just the Olympics. The bad reviewer believes that in the digitalization process of the whole society in the future, we will have a new and warm way of experiencing life and the world.
Just like what Zhang Hao, the initiator of Cloud Pin, said: "Technology brings us together".
source:
@Bad review, Google Images, Weibo@olympic games, New York Times,
Twitter@Gwendolyn Wheat, @Chris Tolton,
@Inocentiu Voinea, @Daniel Adams,
CCTV News, CCTV, Alibaba official,
Associated Press, Global TMT, Reuters