Wasbare RFID-etikette volg hotelhanddoeke, velle, klere. Miami-gebaseerde Linne Tegnologie Tracking gebruik RFID-etikette om handdoeke op te spoor, lakens en badjas. Hoekom? Want katoen is duur.
That plush white bathrobe you wore at your last hotel stay was the epitome of luxury, wasn't it? Maybe next time you'll just accidentally pack it in your suitcase and bring it home to relive the experience.
Or not. A Miami company has patented a washable radio frequency identification, or RFID, chip that's designed to track towels, robes and even bed sheets.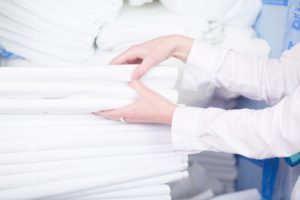 In the hospitality industry, one of the largest expenses of room occupancy is the growing cost of linen supplies — but until now, hotels are in the dark with regard to where those assets are, both when they're in the hands of customers and when they're being laundered by outside vendors.
Here's how it works: each asset is scanned and monitored to and from the laundry, in and out of linen closets, at various check-in or check-out stations, down laundry chutes and even at pool and beach kiosks. Asset Track monitors everything in real time, then offers insights via its reporting and analytics engine.
It's not just preventing theft, either. The real-time aspect allows hotels to make their workflow more efficient, the companies say.
Benefits include, according to the companies: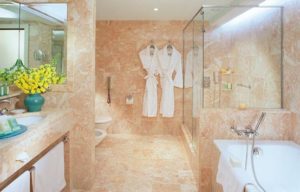 • Increased life of linens and towels.
• Reduction in inventory time and labor.
• More efficient management of linen purchases.
• Improved control and savings within the laundry process.
• Improved control over check-in and check-out process.
• Reduction in linen and towel theft and shrinkage.
• Improved customer service.
RFID Tags Protecting Hotel Towels
The stealing of hotel towels isn't a big problem in the scheme of world problems, but it can be expensive for hotels. Sure, we have moral prohibitions against stealing — that'll prevent most people from stealing the towels.
Many hotels put their name or logo on the towels. That works as a reputational societal security system; most people don't want their friends to see obviously stolen hotel towels in their bathrooms. Sometimes, though, this has the opposite effect: making towels and other items into souvenirs of the hotel and thus more desirable to steal. It's against the law to steal hotel towels, of course, but with the exception of large-scale thefts, the crime will never be prosecuted. (This might be different in third world countries. In 2010, someone was sent enced to three months in jail for stealing two towels from a Nigerian hotel.) The result is that more towels are stolen than hotels want. And for expensive resort hotels, those towels are expensive to replace.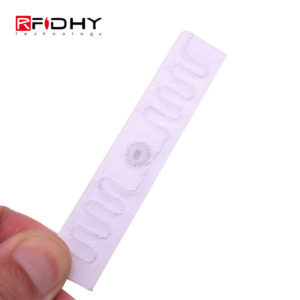 The only thing left for hotels to do is take security into their own hands. One system that has become increasingly common is to set prices for towels and other items — this is particularly common with bathrobes — and charge the guest for them if they disappear from the rooms. This works with some things, but it's too easy for the hotel to lose track of how many towels a guest has in his room, especially if piles of them are available at the pool.
A more recent system, still not widespread, is to embed washable RFID chips into the towels and track them that way. The one data point I have for this is an anonymous Hawaii hotel that claims they've reduced towel theft from 4,000 a month to 750, saving $16,000 in replacement costs monthly.
Assuming the RFID tags are relatively inexpensive and don't wear out too quickly, that's a pretty good security trade-off.